Crypto Protection in a Trustless World
Trust no one. You are your own bank.
TokenGuard is purpose-built protection for high-volume, retail crypto investors, now available to anyone regardless of the size of your crypto portfolio.
TokenGuard uses the same Commercial-Bank-Grade-Crypto-Risk-Detection-Infrastructure trusted by Fortune500 banks, NEO banks, and crypto exchanges that process thousands of transactions a minute.
The proactive risk management screens addresses to analyze risk before trade execution. TokenGuard uses machine learning to aggregate open-source data every 3-5 minutes from global regulators, law enforcement, and Dark Web. Risk analysis is based on multi-hop taint for withdrawals and deposits. Addresses with ANY connection to illicit behavior, money laundering, or fraud are detectable – even down to a single satoshi!
TokenGuard users can proactively screen addresses for any scams or illicit activity. For extra security, TokenGuard sends push notifications whenever transactions occur against monitored wallets: keeping you informed while staying protected!
Because trust no one.
TokenGuard is built for the crypto investor concerned about getting scammed. It is the perfect tool to help you manage and protect your crypto investments. Built with Commercial-Bank-Grade-Crypto-Risk-Detection-Infrastructure, in a consumer-friendly app, you can rest assured that your assets are protected. Try TokenGuard today and protect your crypto.
The real-time monitoring of crypto wallets
Multiple Cryptocurrency Support
Track dozens of cryptocurrencies
Run the app on all your devices. Works on iOS, Android, and web-based for laptops
In-depth analysis of your crypto portfolio
Get a comprehensive analysis of your cryptocurrency investments with our expert portfolio evaluation service.
The ability to manage multiple wallets and view their balance, transaction history, and real-time updates.
Customizable alerts and notifications for price changes, transactions, and other important events.
Trust no one. You are your own bank. Protect your crypto assets with TokenGuard.
Protect and grow your crypto investments with confidence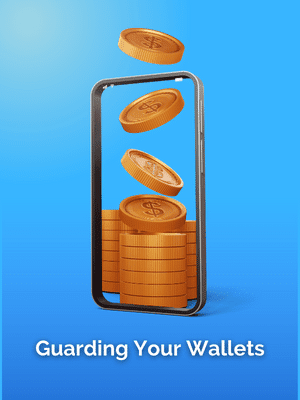 Coming Soon – 2023 Spring